GA Insurance Limited and Planet Moja partnered in June 2023 to establish a pioneering carbon reduction initiative – a first in the Kenyan insurance market. The objectives of the partnership are three-fold: to understand and reduce emissions related to GA Insurance Limited's business practices and products; to empower customers with sustainable insurance solutions; and to educate customers and partners on reduced carbon impact.
The first activity is to develop a certified carbon neutral insurance product for electric vehicles.
Planet Moja partnered with MyCarbon in the delivery of this project. 
About the product…
GA Insurance has launched an annual insurance cover exclusively for Electric Vehicles (EV) – the GA Eco Drive Cover. The product is carbon neutral, meaning that GA Insurance has fully compensated for any emissions caused by the product.
How the carbon-neutral assessment works
The GA Eco Drive Cover policy has achieved carbon neutral status compliant with the PAS 2060 standard. Planet Moja and MyCarbon followed a combination of three methodologies to complete this assessment and certification: the Global GHG Accounting & Reporting Standard Part C: Insurance Related Emissions, ISO 14067 and the Greenhouse Gas Protocol Life Cycle Accounting and Reporting Standard. 
Best practice in carbon assessment for insurance is to attribute a portion of the annual greenhouse gas emissions of the insured item to the insurer. This attribution is justified by the insurer being considered as an 'enabler'. The amount is determined by the annual cost of the insurance policy relative to the overall annual operation cost of the insured item. 
Together we identified the carbon emissions attribution for the six classes of vehicle under the GA Eco Drive Cover policy.  EV emissions are relatively low in Kenya, as around 80% of energy on the Kenya electrical grid is generated from renewable sources. This makes choosing to drive an EV a really effective climate action in Kenya.
GA Insurance Limited has formally declared a commitment to purchase independently verified carbon credits to match the amount of unavoidable emissions per policy.  Find out more here.
To help you understand your climate impact, use our calculator to find out the annual emissions of your vehicle. Try it out!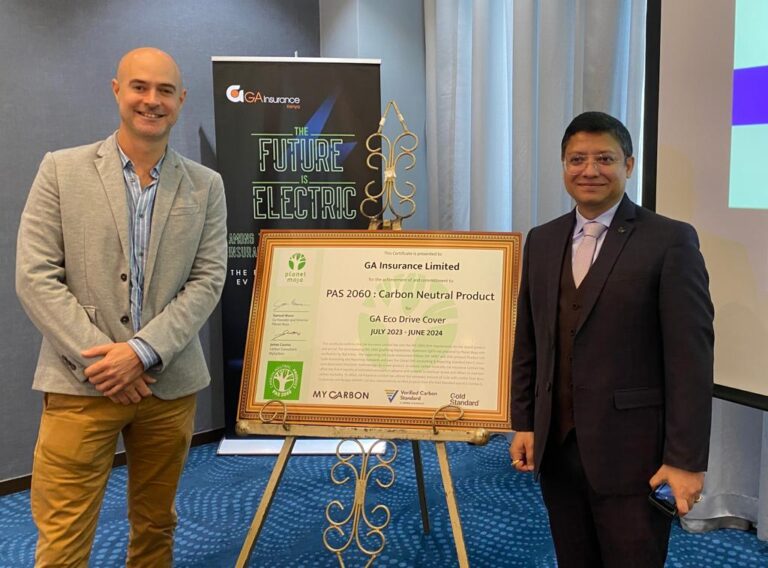 Stef Cassini and Sandip Bhadury (CEO GA Insurance Limited) at the Eco Drive Cover Launch
"In launching our carbon neutral GA Eco Drive Cover policy, we required a rigorous professional approach to assessing our product and achieving certification by Planet Moja exceeded our expectations. What truly stood out was their ability to blend a wealth of worldwide knowledge with a deep understanding of the specific Kenyan context. The discussion and reports were thorough, clear and very effective in raising our understanding of carbon management and sustainability strategy. We truly appreciate the effort that Planet Moja put into this exercise and look forward to expanding our partnership."
Margaret Amondi, Actuary
GA Insurance Limited
Climate projects that GA Insurance Limited has supported
GA Insurance Limited is proud to support Kenyan projects in their carbon-neutral strategy. Burn Cookstoves reduces dependence on charcoal for cooking with the added benefit of reduced transport of charcoal on the Kenya road network. Kasigau Wildlife Corridor was selected as a pioneering project with co-benefits of protecting endangered wildlife along Kenya's busiest transport route. Each project is certified through one of the major Carbon Registries and independently verified. Planet Moja ensures that all projects in our portfolio meet the highest international standards as well as passing our own rigorous screening. 
BURN won the 2015 Ashden Clean Energy for Women and Girls Award. Since 2013, Burn have sold over 1 million stoves. These …
The Kasigau Corridor project results in the avoidance of over 1.5 million tonnes of CO2-e emissions per year. Kasigau covers over 500,000 …